1959 Porsche Standard Diesel Tractor For Sale
---
SOLD!!
This is a really great find!
Out of a prominant So Cal tractor collection, this sweet red 1959 Porsche is fantastic!
The best part about a Porsche Tractor is a shock value...the vast majority of the general public
has no clue that Porsche ever built a tractor!
It is a major crowd draw everywhere you take it!
Big hit at Porsche events, or any automotive venue, and they are a rarity at the
tractor events as well. I dont think there were a whole lot of them that came to the US.
Some of the details on it are so familiar to the Porsche and VW folks out there, like the wide 5 bolt pattern front wheels.
But tires like THIS on a Porsche?
So fun!!
This tractor is fully functional and runs excellent.
It has the connecting spots for implements on the back as well as a fully
functional PTO drive for powering whatever you want to hook it to.
It is an older restoration but it still looks very clean and has always been stored indoors and out of the elements.
I enjoy seeing the familiar German details like the Mann filter and the Bosch components that were used.
It is all familiar , yet so different!
It is a very stylish and cute tractor as well...small enough not to be a pain to store and light enough that you can tow
it with an average full size truck.
This is perfect for the Porsche owner that has some property to tend as well!
Put it to use!
Porsche had a few different models of tractors that they marketed.
This one, the Junior, is the mid range offering.
We also have another one coming in shortly that is the Junior model, which is just abit smaller.
I love the emblems by the way...that Standard script is so Porsche!
Compare it to a Carrera script on the modern cars...same thing!
Everything is cleanly painted and well kept.
It could be further detailed for a showroom appearance
The tires are superb, absolutely like new.
Open up and say "ahh"
Clean and well painted.
PTO drives.
Draw bars and chains to hook to your plow!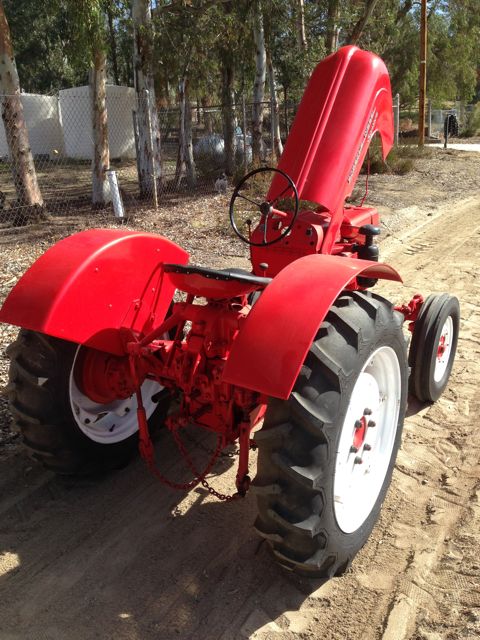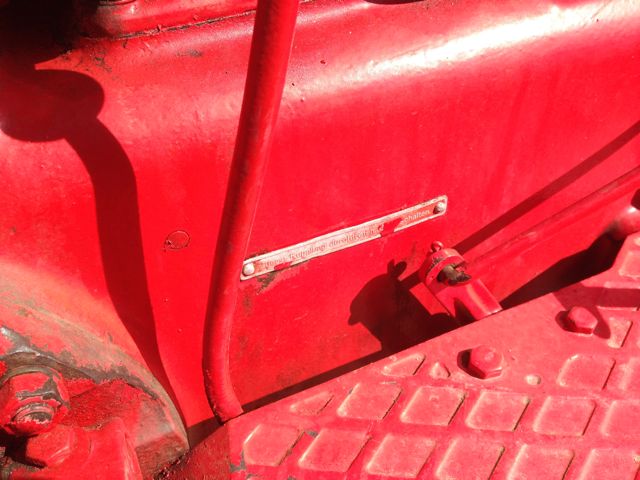 Some slight sings of wear in spots...but easily touched up if it bothered you.
The original tags are all still in place.
Exhaust is in very good condition.
There is some oil seepage as you can see in this photo, that can be easily wiped off.
Its not a heavy leaker or anything ...these old things just do this a bit when run.
Steering box
There are a couple of cracks starting in the paint on the hood.
but overall the finish is bright and attractive.
Under the hood
The fire breathing power plant! a 2 cylinder diesel engine,
Air cooled...runs great!
Fuel tank
Awesome!
The biggest paint flaw is this crack on the very nose that happened
after someone just let the hood slam down, rather than guiding it.
Shifter
Tires still have the nipples and flashing on them...really brand new.
New battery
Bosch parts
Filter
What a great looking machine!
Almost alien from the front!
Glove box
It is missing the original gauges, which is a shame
but I would imagine these could be sourced.
The original 3 spoke steering wheel is here and in nice shape.
Comfy seat!
Original Porsche ID tag
Air filter
In closing this is a very clean example of a rare Porsche Standard Diesel that will be a wonderful addition to any collection!
We have sold a few of these over the years and this is one of the cleanest.
If I had the bucks and space...this one would stay with me!!
So fun!
SOLD!!
---
For More Info...CALL
951-767-1600
or email
oldbug@earthlink.net
---