The "Surf City Roadster" Shelby Cobra Replica
---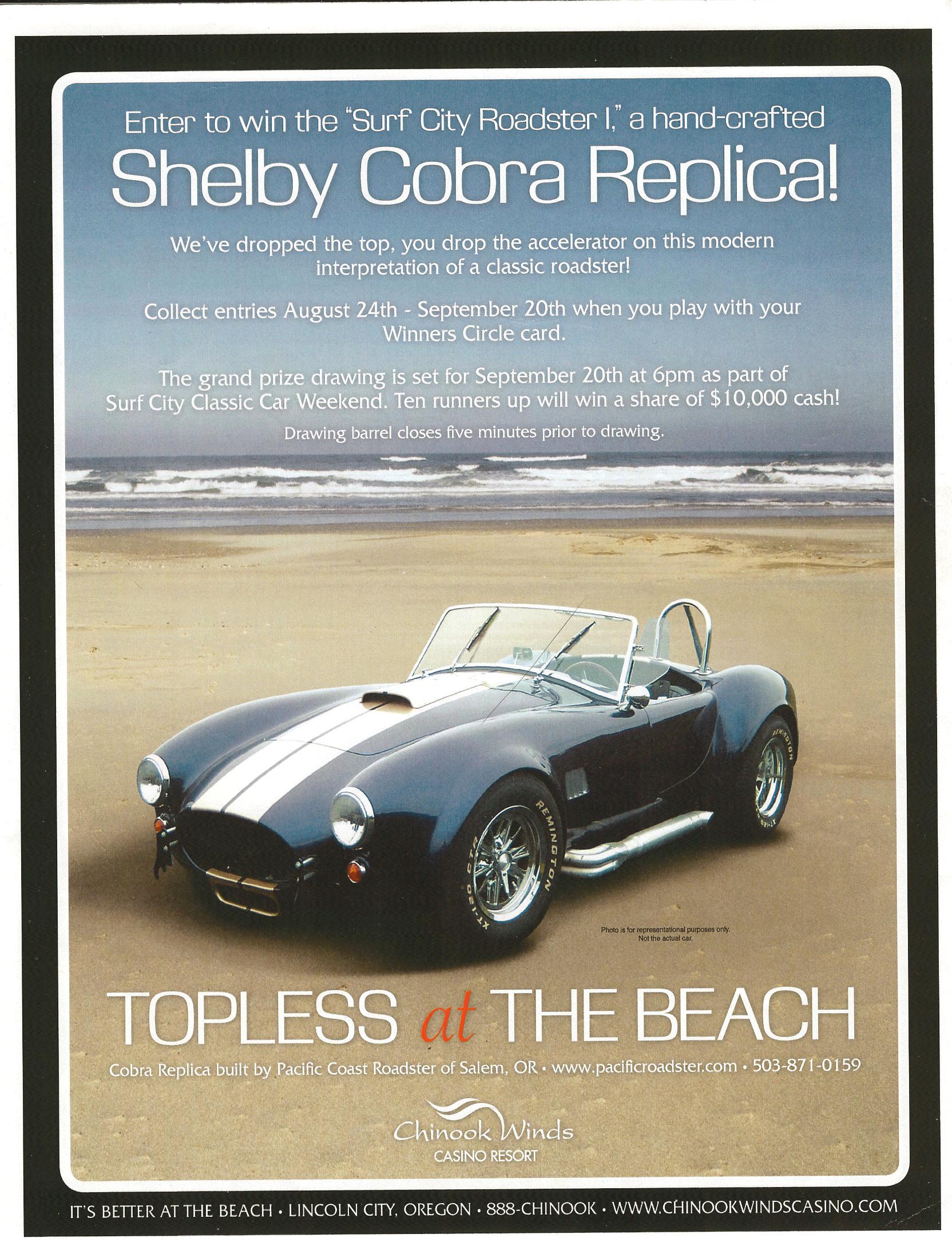 This gorgeous Cobra Replica was won by the current owner in the contest above!!
(what luck eh?)
Built by Pacific Coast Roadster in Salem Oregon for the Chinook Winds Casino Resort!
The car is truly as-new and has been driven only a handful of miles...the owner was thrilled to win it, but
it is not a practical thing for her to own...so here it is up for sale.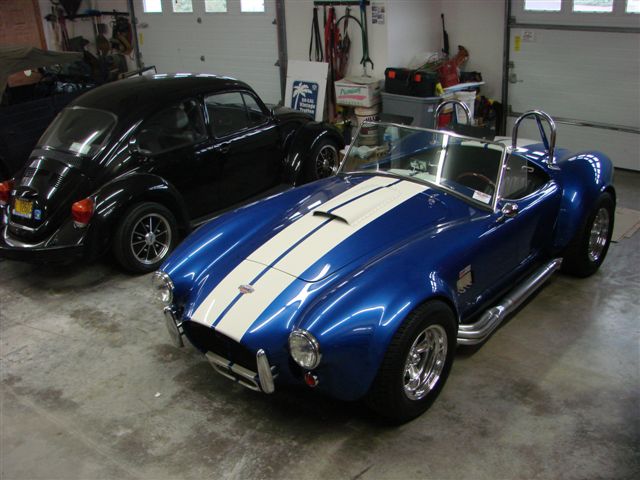 The car is truly factory fresh with only a handful of miles on it since completion.
The build of the car cost the Casino well over $50,000 and the car has every bell and whistle.
The condition is superb... it's a new car!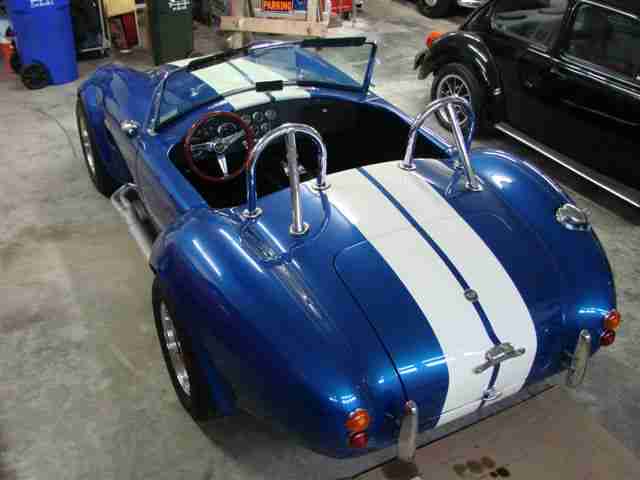 Dual roll bars, the classic Cobra blue with white stripes, huge side pipes that roar like mad.
A car like this is serious fun!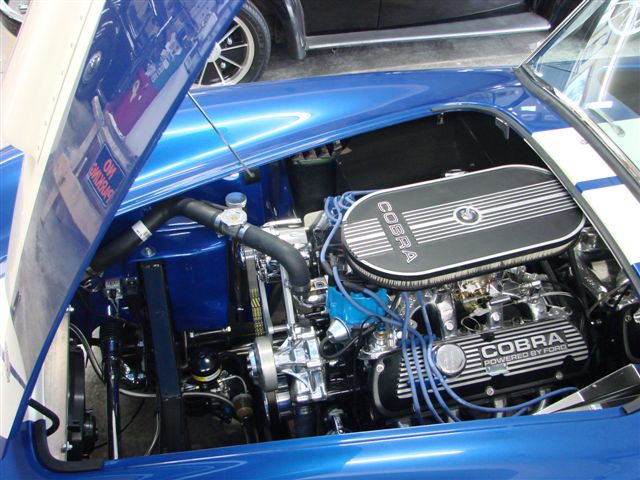 Brand new everything!!! and all detailed to show level.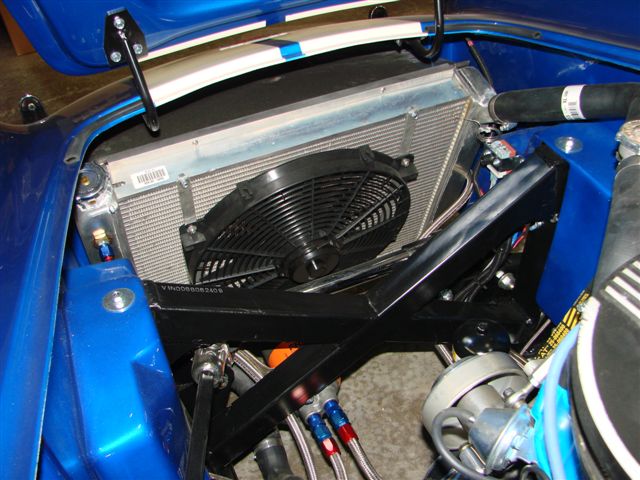 Aluminum radiator with electric fan, all stainless braided lines and anodized fittings.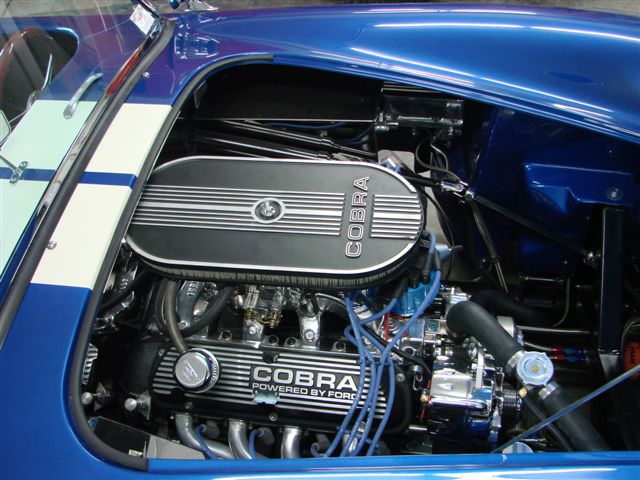 Small block Ford motor with polished intake and 4bbl carb and cast aluminum Cobra valve covers and air cleaner.
Note the chromed alternator and all the other tidy details...cant get much nicer than this!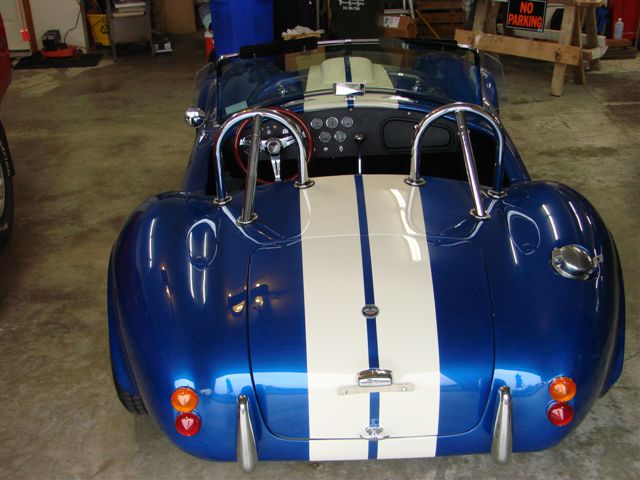 Just awesome...the big ol fat tail end...what a great shape, it's the type of car that
you would greatly enjoy polishing...like caressing a beautiful woman!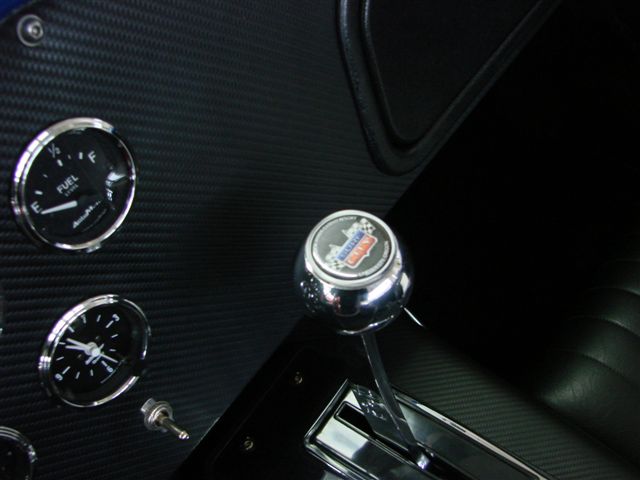 Automatic trans, full instrumentation, interior is spotless!
Special "Surf City" shift knob commemorating the contest and the casino it was won from.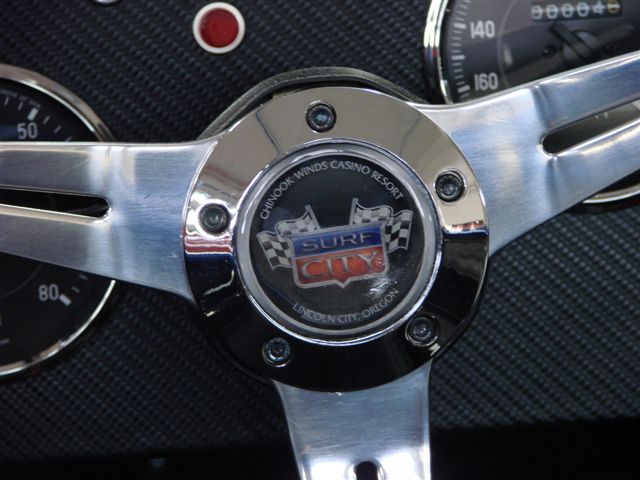 Wood rimmed steering wheel has a special center as well...note the mileage on the odometer...
Yes...it really has only a "handfull" of miles...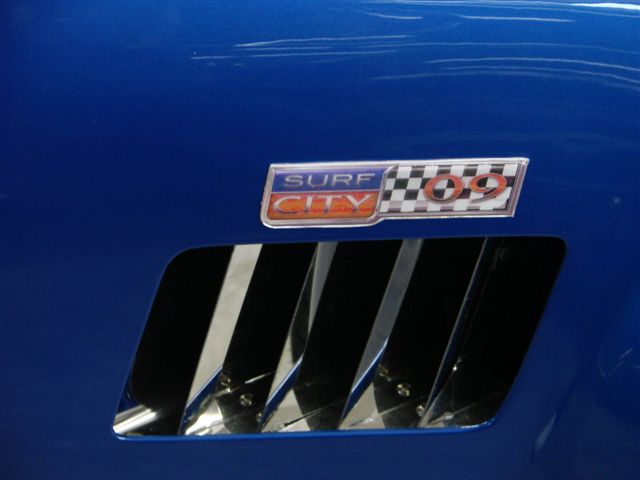 Surf City 09 logos above the polished "gills".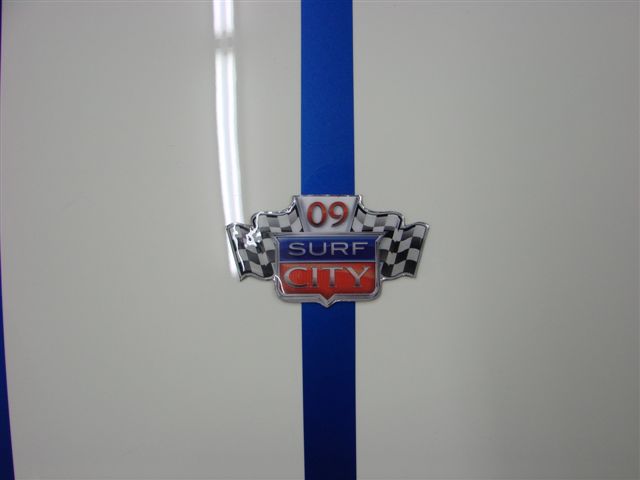 Another special logo on the hood.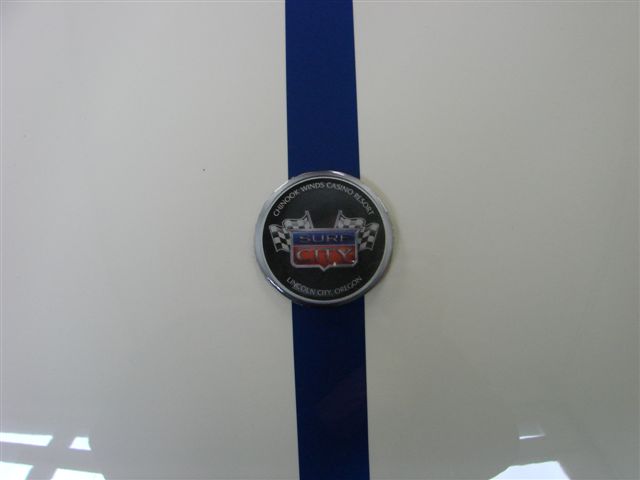 And another on the trunk lid.
These emblems could certainly be removed by the new owner if desired...but they do make th car a little
unique in the world of Cobra replicas...there is not another one out there exactly like this!
Here are the specs...

Engine:
351 engine w/ 300+ HP Edelbrock Carburator- Chrome Plated Edelbrock Air Cooled Manifold-
Chrome Plated Cobra Valve Covers, Cobra Air Cleaner Cover, Chrome Alternator, Polish Finish Water pump,
Aluminum Pulley, Chrome Plated Fuel Pump, Chrome Plated Water Neck, Aluminum Radiator w/ Electric Fan & Adjustable Thermostat Relay,
Left & Right Full Length Ceramic Coated Tube Headers, Ceramic Side Pipes, Low profile Moroso Oil Pan, Remote Oil Filter w/ Braided Line,
Oil Cooler, Chrome Steering Rack, Mirror Finish Stainless Steel Shroud, Oil Cooler Mirror Finish Stainless Steel Shroud ,
Radiator Mirror Finish, Stainless Steel Fire Wall & Foot Box Unisteer U-joint Steering Shaft
Front Suspension:
Tubular Control Arm, Upper & Lower Aldan Coilover w/ Adjustable Ride Height
w/ Rebound Adjust With up to 11 Positions Front 11" Disc Brake Rotor
Rear Suspension:
8.8 w/ 355 Gears 10.5" Rear Disc Brakes
Upper & Lower Tubular Control Arm Sway Bar Lokar Emergency Hand Brake
Wheels/Tires:
245/60/15 Cooper Cobra Tires on Front 295/50/15
Cooper Cobra Tires on Rear 15x8 Aluminum Torque Truster Wheels on Front 10" Aluminum Torque Thruster Wheels on Rear
Electric Power Booster Aluminum Billet Master Cylinder Puts out 1200psi Braided Brake Lines
Body:
Stainless Steel Side Vents <Classic Chrome Plated Hood, Trunk and Door Latches,
Polished Classic Billet Rear View Mirror & Drivers Side Mirror- Chrome Plated Aluminum Heat Vent Covers
Chrome Roll Bars w/ Aluminum Trim Rings Aluminum Lemans Style Gas Cap,
Chrome Overrider Bumper Brass Windshield Frame Chrome Plated Sun Visors Wind Wings
Interior:
Original Style Grant Wood Steering Wheel, B&M Quick Silver Shifter, Carbon Fiber Texture Wrapped Center Console,
Carbon Fiber Texture Map Door Pockets, Aluminum Dash Panel w/ Carbon Fiber Texture Wrap, Autometer Classic Style Gauges,
Glove Box, Classic Style Seats w/ High Density Foam with Leather Style Grain Material ,
Black Interior Carpeting, Black Trunk Carpeting, Sealed Battery in Trunk, Custom Surf City Designed Emblems.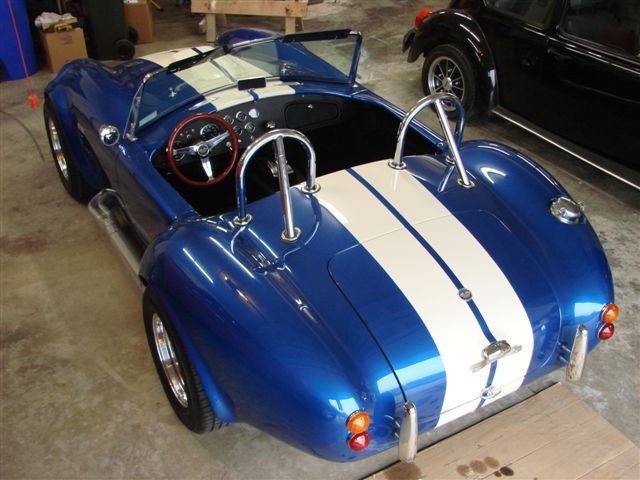 So...what we have here is a brand new Cobra...fully loaded, ready for adventure and a life in the sun.
The car is located in Newport Oregon and can be seen by appointment only.
The title is clean and clear by the way, so there should be no issues in registering it for use...it's all ready to go!

Asking
SOLD!
---

For More Info...CALL
951-767-1600
or email bugnbox@earthlink.net


---